West Is West
United Kingdom
Dir: Andy DeEmmony

Starring: Aqib Khan, Om Puri, Jimi Mistry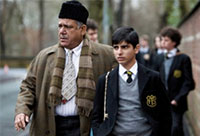 OIFF Festival Choice


Sajid is deep in pubescent crisis under heavy assault both from his father's


tyrannical insistence on Pakistani tradition, and bullies in the schoolyard.
In a last, desperate attempt to 'sort him out', his father decides to pack him
off to the Punjab, with the wife and daughters Mr. Khan abandoned 35 years
earlier. It's not long before Ella Khan (Mrs Khan No.2) and small entourage
from England, follows to sort out the mess, past and present.
At the Bijou Art Cinemas
492 E 13th Ave
Eugene, OR 97401
$11.00